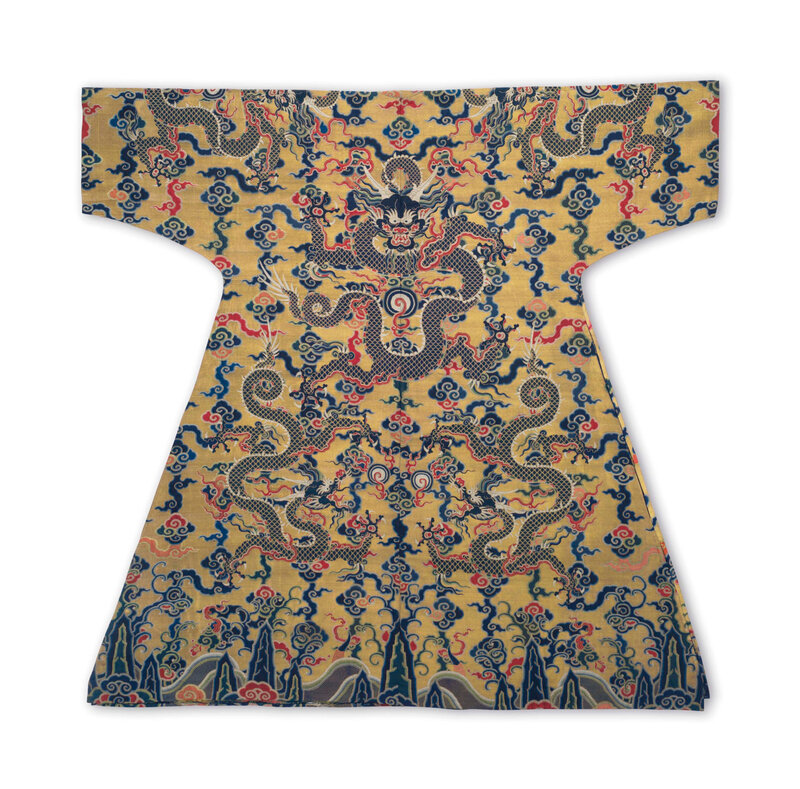 Lot 3281. A rare imperial untailored gold brocaded silk twill court overcoat, gua, Kangxi period, late 17th century; 53 ¼ in. x 53 ¼ in. (135 cm. x 135 cm). Estimate $250,000 – 350,000 . Price Realized $269,000. © Christie's Image Ltd 2015
The yardage is finely worked in colored silk and gold threads with nine five-clawed dragons, with scales picked out in green and blue thread, each confronting a flaming pearl amidst green, blue, and red clouds. The hem is woven with rock formations rising from rolling and crashing waves and ruyi-shaped clouds, all on a bright gold, weft-patterned ground.
Literature: C. Kontler, Arts et Sagesses de la Chine, Milan, 2000, pl. 88 and p. 238.
J. E. Vollmer, Silks for Thrones and Altars: Chinese Costumes and Textiles from the Liao through the Qing dynasty, Myrna Myers, Paris, 2003, front and back cover, p. 54, no. 23.
Note: The pattern of this impressive front-opening overcoat fabric was woven to shape for a Manchu garment with long tapered sleeves (a single separate sleeve end provides information about the intended sleeve width and length). The fabric is solidly patterned with supplementary wefts brocaded on a twill ground. Brilliantly colored dragons amid clouds above a billowing border of waves crashing against mountain forms are set against a gold ground. While such lavish use of gold threads evokes the tradition of nasij or 'cloth-of gold' robes that were distributed at the Yuan dynasty court as signs of imperial favor, its use by the early Qing court was clearly meant to impress and to overwhelm by underlining the wealth and power of the Manchu court.
The dragon-patterned overcoat marks an early stage in the development of the closed nine dragon robes that first appear in the early 18th century and becomes the standard court attire for the emperor and all higher ranking courtiers. Earlier experiments dating from the reign of the Shunzhi emperor (r. 1644-1661) are heavily influenced by late Ming dynasty styles. These overcoats have a pair of profile dragons flanking the front opening sharing a flaming pearl, with a single, larger profile dragon at the back—smaller dragons were placed at each shoulder (see Vollmer and Simcox Emblems of Empire: Selections from the Mactaggart Art Collection, Edmonton, Canada, 2009, pp. 202-205).

On this example, probably dating from the 1670s or 1680s, the number of dragons has increased to nine. A hierarchy of dragon types - front-facing and profile - and size - larger above the waist and smaller below—will influence the arrangement of design elements on the standardized Qing garment which displays eight dragons of two types on the surface and places a hidden ninth dragon on the panel under the front overlap.

Many of these transitional pieces were sent to Tibet under the Kangxi emperor as they quickly fell out of favor and fashion. This unused design was pieced together with other textiles to form an altar canopy. For these liturgical furnishings, which were suspended over an altar platform and its icons and offerings, Tibetans preferred larger pieces of Chinese textiles, in particular dragon robes as their cosmic imagery provided ready-made representations of the firmament, or canopy of 'dome of heaven'. This is one of the most complete examples of this garment type.

By John E. Vollmer
Christie's. FINE CHINESE CERAMICS AND WORKS OF ART, 15 - 16 March 2015, New York, Rockefeller Plaza